Most brides don't want a full transformation.
Here are some tips for natural wedding makeup that makes you feel like yourself, only better.
While some brides want to look Hollywood glamorous for their big day, some prefer a more natural wedding makeup look. It all depends on the bride's likes and dislikes. There are no "wrongs" when it comes to what you prefer.
So how do you hide imperfections and jazz up your look but still look like you? Natural makeup is the key.
Read on for some tips and tricks on how to look amazing on your wedding day with natural makeup without stressing over the details.
1. Hire A Professional Makeup Artist
Ok, we know that's taking the easy road, but to be honest, you will have enough to worry about on your big day. Why should you worry about perfecting your makeup?
Hiring a professional makeup service can take that stress away from you and your bridal party. A good wedding makeup artist will listen to your wishes, ask you relevant questions, and possibly even experiment before your big day, so they are sure to get the right look.
Remember, makeup artists do this for a living. They know the products that work for different skin types, skin conditions, and skin tones. Good makeup artists also know how to use bridal makeup to contour, highlight, and make a face pop in a subtle way.
You can also help guide a makeup artist by clipping photos of looks you like. They can tell you if your skin would do well with that particular look, advise you on colors, and come up with some hairstyles.
2. Drink Lots of Water
In the days leading up to your wedding, you will want to make sure that you stay hydrated. Unfortunately, drinking water can be easy to forget when you're close to your wedding because you are so busy, but it is vital to your natural look, not to mention your health!
Our bodies are made up of 60% water, so it should not surprise you that water can improve your looks. When we are hydrated, our skin is bright and glowing and can help clear your complexion (and we know you want to avoid blemishes if at all possible for those close-up shots!).
3. Moisturize
Moisturizing can make or break your skincare routine.
It creates a barrier of protection for your skin from makeup and debris, and some moisturizers also have SPF protection to help protect your skin from the sun's damaging UV rays. When your face is exposed to a lot of sun, it can develop sun spots, fine lines, wrinkles, and skin cancers.
Moisturizing daily will give you that subtle, soft, and natural look you're going for on your wedding day.
4. Start Early
Instead of only focusing on your skin and natural look on the day of your wedding (when you will already be tired and stressed), begin a good skincare routine months before your big day. The benefit to this is that it takes an average of 66 days to develop a habit, so leading up to your wedding day, you'll be a pro at preparing your skin for makeup.
There are a lot of aspects that go into skincare, and it differs for everyone. For some, using a gentle facial cleanser, exfoliating, and applying moisturizer are good enough. It may be more involved for others due to skin color, type, and age.
There are many different skin care products to choose from, including toners, serums, eye creams, sunscreens, spot treatments, oils, and vitamins.
We know that is overwhelming, and yes, those are all just for the face! If you're unsure, consult with a professional makeup artist because some of them offer makeup lessons, and you would be able to ask questions about routines they recommend.
Remember…great makeup starts with great skin!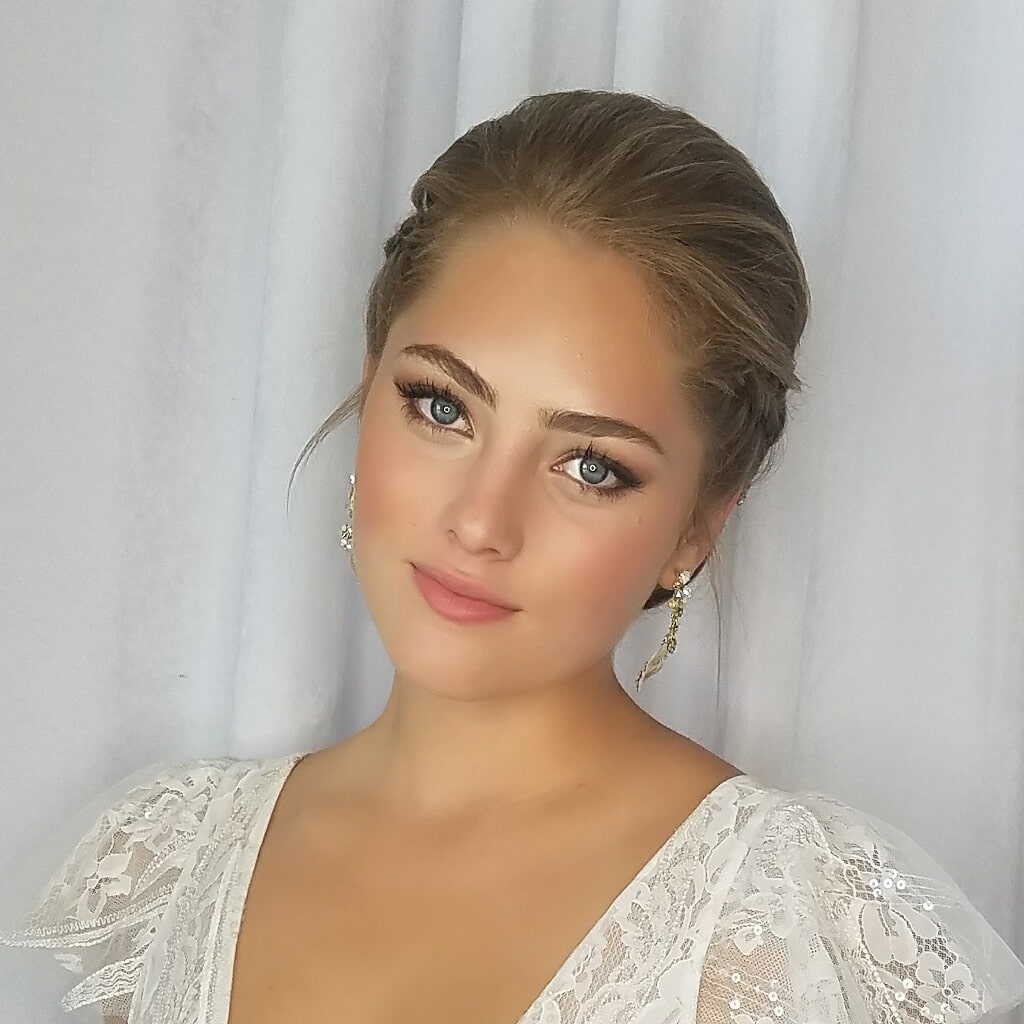 5. "Natural" Doesn't Mean "Nothing"
You may be tempted to try some basic neutral shades and some lip balm and call it a day, but there's a reason behind the madness that is makeup.
Basic is fine for a typical everyday look, but you're meant to stand out when you are in your wedding dress. That doesn't mean we will heavily contour your face or plaster on wine berry colored lipstick, but natural looks still require some coverage.
6. Know What To Ask For
Along with photos of what you desire (like we mentioned above), knowing the proper jargon can be helpful when hiring or taking a course with a makeup artist. Some natural makeup lingo includes terms like barely there, subtle, and fresh.
It's also essential to ask for what you want regarding your uniqueness. For example, if you have a signature mole (think Cindy Crawford) that defines who you are, make sure that your makeup artist knows not to cover it up. Another example would be if you have a scar and prefer it be covered, make sure you convey that.
Conclusion
Your wedding is one of the most important days of your life, and it's ok that you want to feel incredibly beautiful. Everyone has a different definition of what beauty means, and if your goal is to look like yourself but better, then a natural wedding makeup look may be for you.
Whether it's tutorials or hiring a professional, you'll need to prepare to look your best on your wedding day.
We travel throughout Central Florida to offer wedding hair and makeup services, including airbrush makeup and even false lashes. We also offer one-on-one personal makeup lessons, or you can get yourself and your bridesmaids together for a group lesson.
Whatever you need, we are happy to guide you along the way. Give us a call today to get started.