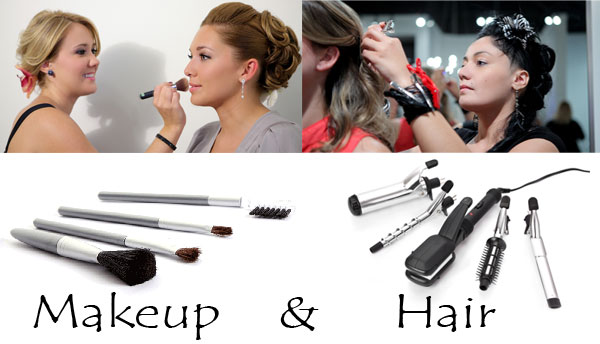 Should You Hire One Person To Be Your Makeup and Hair Stylist?
In the corporate and commercial world, for simple camera work you can get away with hiring one person for hair and makeup. But for today's weddings, with their picture-perfect high-definition demands, you should never settle when it comes to your makeup and hair stylist.
We've said it before and we'll say it again — hiring one person as your wedding hair stylist and wedding makeup artist is a mistake. If a hair stylist recommends themselves for your makeup, then you should run for the hills.
Here's a BIG SECRET! 99% of talented hair stylists are very good at one thing – hair. Don't let them convince you they can do makeup too! And, for that matter, don't let your makeup artist do your hair unless she has exceptional experience and talent in styling. Education is extremely important when you're attempting to do both, and that's why we take no chances with our team at M3.
It's rare to find someone who's good or trained at both…and when you do, it's often far more difficult to schedule your wedding preparations if you have a few bridesmaids…one person doing hair and makeup is a timing nightmare or poor rush job waiting to happen.
How Long Should It Take?
Bridal hair should take 30-90 minutes depending on complexity and makeup should take 60 minutes on the bride and 20-30 minutes per member of the bridal party. In today's 'wedding day' world, there is no way possible that one person can give everyone the attention they need and deserve. Especially the bride. The hair and makeup team should be separate and working on a schedule as much as possible.
There should be one person focusing on the bride's hair and one person focusing on the bride's makeup. There can be a separate makeup artist for the bridesmaids. If you have a lot of bridesmaids you may need two or three artists to make sure everything flows with your timeline.
Take a step back and make sure you hire an artist and a stylist separately. You should also feel confident your stylist and artist can take their time and perfect every little detail with your look.
Unfortunately, mistakes do happen. You want to make sure that you're not about to walk down the aisle with no time for corrections. Hiring a professional and talented team is how you can avoid that.
What To Look Out For
Typically you can spot a real makeup artist by the size of her massive traveling kit. Some salons are serious about their makeup and often bring in teams of true artists like M3 to assist with their wedding services. And while we are always thrilled to collaborate, make sure you know the education and background of your artist and never feel shy or 'bad' for asking for examples of their work.
Remember, you're hiring them. They work for you. You are allowed to ask for experience, a portfolio, and testimonials. If they have a website refer to that too. Professional makeup artists should be able to show you their past work and have it readily available for viewing.
They don't need to be award winning (thought that's a plus!) but if they offer you a trial run, take it. That way they get to know your hair and skin and can make sure that your big day runs as smoothly as possible.
Also be weary of a company that insists you come to them. You need a company that will come to you, on location. That is essential for correcting mistakes, touch ups for photos, and avoiding any other unforeseen circumstances that pop up. Aunt Ida smudged your makeup? No problem.
We've got you.
Why Choose Us
We are serious about our craft. We also believe that it takes more than raw talent and a big makeup or hair kit to succeed. It takes teamwork mentality and here at M3 we say there is no I in team. With us you will get consistent service and results so that there are no surprises on your big day.
Training and experience are a big focus at M3. All of our makeup artists either have extensive professional training in a school dedicated to makeup or have completed an extensive apprenticeship program under Michele's careful guidance (and sometimes both!).
For your wedding day you don't want amateurs, you want the professionals. Our motto is 'no stress' and that's what we strive for as your makeup and hair stylists. We don't want you worrying about your hair because it's drizzling outside, or that the cameras won't pick up your gorgeous eyes. Your job is to relax and get excited about our talented team erasing your worries.
All of our hair stylists have completed formal cosmetology training and have years of high-end salon experience under big names. We aren't messing around, we know our stuff. You can expect perfection for your special day.