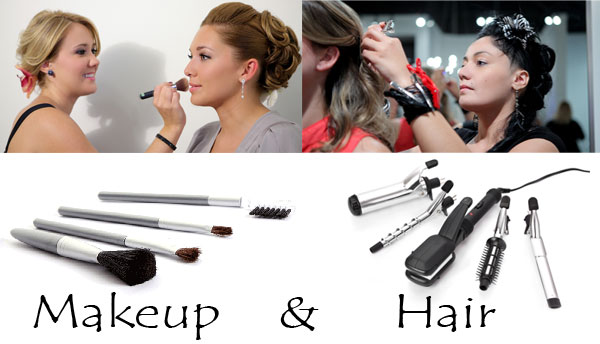 In the corporate and commercial world, for simple camera work you can get away with hiring one person for hair and makeup. But for today's weddings, with their picture-perfect high-definition demands, you should never settle when it comes to the bride's personal beauty.
We've said it before and we'll say it again — hiring one person for hair and makeup is a mistake. If a hair stylist recommends themselves for your makeup, then you should run for the hills. Here's a BIG SECRET! 99% of talented hair stylists are very good at one thing – hair. Don't let them convince you they can do makeup too! And, for that matter, don't let your makeup artist do your hair unless she has exceptional experience and talent in styling. It's rare to find someone who's good at both…and when you do, it's often far more difficult to schedule your wedding preparations if you have a few bridesmaids…one person doing hair and makeup is a timing nightmare or poor rush job waiting to happen. Bridal hair should take 30-90 minutes depending on complexity and Makeup should take 60 minutes on the bride and 20-30 minutes per bridesmaid. Take a step back and make sure you hire an artist and a stylist separately. You should also feel confident your stylist and artist can take their time and perfect every little detail with your look.
Also be wary of salons claiming they can do makeup too. With very few exceptions, most salons are using hair stylists, estheticians, or cosmetologists (these are not professional makeup artists) for this service. Typically you can spot a real makeup artist by the size of her massive traveling kit. Some salons are serious about their makeup and often bring in teams of true artists like M3 to assist with their wedding services. Make sure you know the education and background of your artist and ask them for an extensive portfolio of their makeup work (they should have a book or a website).
We are serious about our craft. We also believe that it takes more than raw talent and a big makeup or hair kit to succeed. Training and experience are a big focus at M3. All of our makeup artists either have extensive professional training in a school dedicated to makeup or have completed an extensive apprenticeship program under Michele's careful guidance (and sometimes both!). All of our hair stylists have completed formal cosmetology training and have years of high-end salon experience under big names. We aren't messing around, we know our stuff. Expect perfection.